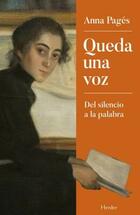 Year of publication:
2022
Binding:
Rustic with flaps
¿Qué es la voz en el momento de leer, de escribir y de pensar? ¿Cómo localizarla en el texto, encarnarla en el cuerpo, o sufrirla en la locura?
En este libro se exploran distintas dimensiones de la voz más allá del logos filosófico que tan bien conocemos como razonamiento, argumento o idea. A través de un coro de autores de la literatura, la filosofía y el psicoanálisis, la voz se desliza entre las letras y acoge otras tonalidades: Sócrates, Aristóteles, Barbara Cassin, Jacques Lacan, Hélène Cixous, Anne Carson, Friedrich Nietzsche, Helmut Plessner, Roland Barthes…
La voz es una manera de respirar lo que se dice. La mujer del retrato en la portada del libro esboza una ligera sonrisa, en silencio. Su voz está suspendida entre el silencio y la palabra en un instante breve, de expectativa entre lecturas.