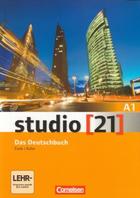 Year of publication:
2013
Text book
Studio [21] is the new edition of the world-famous Studio d, with updated content and fresh design.
The book is aimed at adults without previous knowledge, so that they can learn German both in Germany and abroad. It is presented in three volumes in total or in six parts and reaches the B1 level of the Common European Framework of Reference.
Each book is divided into 12 units with an integrated part of the exercise.
It also contains two pages of two-page magazine exercises and video.
A sample test, a grammar summary, a list of words and all listening texts are given in the annex.
This complements an audio CD with the audio texts of the exercises, as well as a DVD-ROM with the book as a German ebook.
Studio [21] is characterized by interesting themes and texts that motivate task-based learning and use of the active language, clear...read more