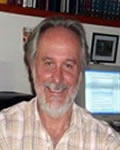 José Luis Díaz Gómez was born in Mexico City in 1943. He graduated as a surgeon at the National Autonomous University of Mexico (UNAM) in 1967 with a thesis supervised by Prof. Dionisio Nieto who was his principal teacher. In this same year he began university and an academic research career full time continues. In the early 70s he expanded his training as a research associate in the Laboratory of Psychiatric Research at the University of Harvard and Massachusetts General Hospital in Boston, USA by Prof. Seymour S. Kety.
The UNAM has been researcher at the Institute of Biomedical Research (1967-1993) and the Center for Neurobiology, Juriquilla campus in Queretaro (1993-2003). He has been a research associate of the Units of Neurosciences at the National Institute of Neurology (1968-1985) and the National Institute of Psychiatry (1985-1993), and Visiting Professor of Cognitive Science Program at the University of Arizona (1995 - 6) and the Faculty of Psychology of the University of Santiago de Compostela (1999 and 2008). He is currently a researcher at "C" in the Department of History and Philosophy of Medicine, Faculty of Medicine, UNAM.
José Luis Díaz has been devoted to the Psychobiology, ie the study of the biological and brain basis of mind and behavior. His studies have covered neurochemistry, psychopharmacology, ethnopharmacology, ethology, the mind body problem, the nature of consciousness, cognitive science and epistemology. He is author of about 146 scientific papers, review and disclosure and, among others, the books "Psychobiology and Behavior. Routes of Inquiry "(1989)," The Mind and Animal Behavior "(Editor, 1994)," The Abacus, the Lira and Rosa. Regions of Knowledge "(1997) and" Living Consciousness "(2007), the four edited by Fondo de Cultura Economica. He published "The commotion of the serpent" (Herder, 2006) on the symbolism of the myth of Quetzalcoatl which has been translated into English and published in the Antares editortial Toronto.
In 2009 and 2010 he published a biographical essay in Galician (Sementeira and memory Ediciós do Castro) and one in Castilian (Planting and Memory Death and evocation of a Republican doctor, Madrid. Fondo de Cultura Economica) on his uncle Manuel Díaz González, Republican country doctor I shot the start of the Spanish Civil War.