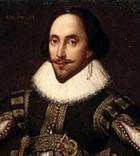 William Shakespeare (Stratford-upon-Avon, Warwickshire, United Kingdom c. Apr. 26, 1564) was a playwright, poet and English actor. Sometimes known as the Bard of Avon (or simply The Bard), Shakespeare is considered the greatest writer in the English language and one of the most famous in the world literature.
The New Encyclopædia Britannica says that "many consider him the greatest playwright of all time. Their pieces [...] are represented more often and in more nations than any other writer."
Shakespeare's plays have been translated into the major languages ​​and his plays still being represented worldwide. Also, many quotations and aphorisms of his works have become part of everyday use, both in English and other languages. Over time, there has been much speculation about his life, questioning his sexuality, religious affiliation, and even the authorship of his works.