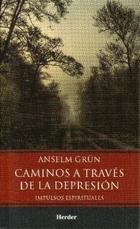 Year of publication:
2008
Encuadernacion:
Rústica con solapas
Like all diseases, depression has two sides, the physical and spiritual. However, we often forget that a spiritual approach can help us see depression in a new light, to recognize it as an opportunity to learn something about ourselves and integrate it into our lives.
In this book, Anselm Grün, one of the most important spiritual writers today, offers some tips for dealing with depression from reading the Bible and the tradition of the Desert Fathers. Convinced that depression is a spiritual challenge, Grün conveys to readers the hope that prayer, meditation and spiritual practices all religious tradition offers represent a good way to approach and overcome depression.
"I breathe value to readers and readers to face their sadness, their despair and depression, to look at them face to face, to be reconciled with them, question their meaning, and with depression, submit ...read more