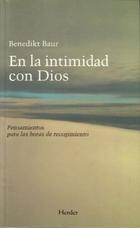 Year of publication:
2009
This volume is a very solid selection of beautiful spiritual readings that could be called a complete course on spirituality at the same time copiosoy synthetic. Notable are the cvlaridad and sober objectivity in presentation of ideas. The author knows how to choose at all times, in the vast field of mysticism and asceticism, those issues easier to understand and goes back from them to the contemplation of the sublime truths of revelation._x000D_
_x000D_
The thoughts that are proposed to Christians and coordinating have matured over many years as a result of meditating a personal and insightful jornadasde frequent experimentation in spirituality._x000D_
_x000D_
Never the spirit has found a better guide walkers that this work, drawn to the rhythm of our contemporary life, but with the vision always fixed on the abysmal mystery of divinity.