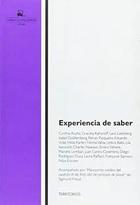 Year of publication:
2012
In this second volume we gathered a series of works, some presented at the Colloquium Experience of Knowing that it took place in Bahia, Brazil, in August 2010 and others at the Conferences on the same subject held in Buenos Aires in November of that same year.
Very early on, Freud said that knowledge is incomplete. Indeed, from the original of the Freudian experience it is a knowledge that is inscribed as a fragment or as a rest in not knowing, a knowledge that does not know itself and that is extracted from the subject himself as long as there is no subject of unconscious knowledge.
This is the axis from which jobs interrogate language, writing, body, polishing, analyst's place.