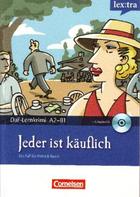 Year of publication:
2008
Petra from the floodplain can not remember more. What's wrong with her husband? He loves another? Is his professional and political career in jeopardy? Asks Patrick Reich for help, and the private investigator discovers a secret.
The Lextra readers can be grouped into Those for A1/A2 level and Those for a level above A2/B1. Illustrations and footnotes help with comprehension; exercises in the appendix offer additional practice. Some Further Also include cultural background information. An audio-book version of the story is Also included.