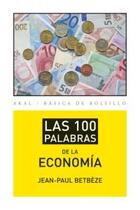 Year of publication:
2013
Can we summarize our economic world in 100 words? Yes, if we take those words that fill the headlines, those that refer to the crisis, those that seem decisive. Yes, if they are explained and interconnected, without neglecting what is happening around us. Today's world uses these terms continuously because how else do we know if the experts are confused or give us biased information?
From "anti-globalization" to "currency zones", this book presents the 100 words worth knowing to understand today's world economy and its implications.