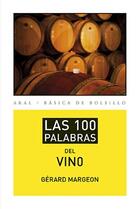 Year of publication:
2015
Discover the world of wine in 100 words.
In 100 keywords, from "45 seconds" to "pleasure", from "woody" to "winemaking", Gérard Margeon, Alain Ducasse's chief sommelier, invites us to savor the wine, to gradually identify all the elements that make up the richness of this drink.
Following the words chosen, Margeon explains the influence of the climate, the soil, the vines, the vinification, the bottling, the choice of a glass or even a decanter. With this, he invites the reader to become an amateur, that is, to discover little by little what his type of wine is, to explore lesser-known productions and to sharpen his curiosity to appreciate its enormous diversity.