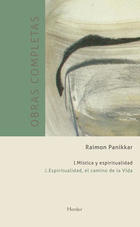 Year of publication:
2015
Binding:
Tapa dura con sobrecubierta
Raimon Panikkar (Barcelona, ​​1918-Tavertet, 2010) is one of the most prominent representatives of thought intercultural and interfaith dialogue. At the end of his life he undertook the task of selecting and thematically organize their profuse work, published in several languages.
"These Collected Works comprise a span of about seventy years, during which I have dedicated to deepen the sense of a more just and full human life. I have not lived to write, but I have written to live in a more conscious and to help my brothers with thoughts arising not only from my mind, but from a higher source that may well be called Spirit. "
The first volume is divided into two volumes, the first devoted to mysticism, understood as the supreme experience of reality, and the second to spirituality, seen primarily as a way to achieve that experience.
Spirituality, Life path begins w...read more