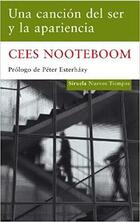 Year of publication:
2010
Binding:
Rústica con solapas
Nooteboom has the rare ability to create adventure from his travels. […] A great capacity [from which] this extraordinary book emerged. "
Péter Esterházy
Being and appearance confuse their limits in this short novel, an intelligent and beautiful reflection on literary creation.
A writer who has not written fiction for a long time, while talking to another writer about his work, creates two characters - a doctor and a colonel - on whose story he is working. From here several evocations of the characters emerge that will emerge from the nonexistence of him to take shape as Dr. Stefan Ficev and Colonel Georgiev Liuben. Readers will know some aspects of Dr. Ficev, as well as the ideas of Colonel Liuben, reader of Schopenhauer. This story will be intertwined both with the doubts of the writer and some of his encounters with his colleague.
"The colonel falls in lo...read more