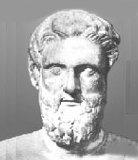 Aristophanes (Greek Ἀριστοφάνης,.. Athens, 444 BC - 385 BC) was a famous Greek playwright, leading exponent of the comic genre. It lived during the Peloponnesian War, a period that coincides with the splendor of the Athenian empire and its subsequent defeat by Sparta. However, it was also the resurgence of contemporary Athenian hegemony in the early fourth century. C.
Reading Aristophanes can get an idea of ​​the intense ideological debates (political, philosophical, economic and literary) in the Athens of that time.
His conservative stance led him to defend the validity of traditional religious myths and was reluctant to any new philosophical doctrine. Especially known is his animosity toward Socrates, who in his comedy Clouds presents him as a demagogue dedicated to all kinds of nonsense instill in the minds of the young. In the arts nor was characterized by an innovative attitude; theater of Euripides considered as a degradation of classical theater.