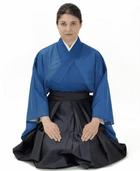 Belén Pérez (Zaragoza, 1967) Graduated in Art History from the University of Zaragoza. She obtained the Diploma of Advanced Studies (DEA) with a study on" "The Art of the Traditional Japanese Archery" "(2012) at the same university .
Author of "" The Essence of Kyudo. The Art of Traditional Japanese Archery "" (2013) with Satori Ediciones, specialized in Japanese literature and culture.
In addition to directing the University's Kyudo School and kyudo classes in Zaragoza, he teaches national training and initiation courses, and weekly Chi Kung classes in Zaragoza.
In addition to his dedication to martial arts, he has a long career in the artistic world, especially in dance and the performing arts. She is co-founder of Dies Irae, the first alternative dance company to emerge in Aragon in the 1980s. For more than twenty years, within Dies Irae he has created a set of works that range from the most avant-garde dance to installations, performances and activities of social dynamism. In the early nineties he began working on digital image and graphics.
He also does photography and various video projects, among which are the recording and production of dance video and industrial videos; also produces and intervenes in film projects. In 2010 he was introduced to the Japanese painting technique of sumi-e exhibiting in Japan in recent years.