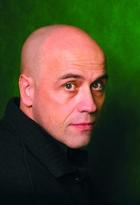 Javier Negrete (Madrid, 1964) has a degree in Classical Philology. Since 1991 he lives in Plasencia, where he teaches Greek at IES Gabriel y Galán. He has a daughter named Lydia.
Since its first publication, The Still Moon, it has cultivated various genres, such as science fiction (Shadow Seeker), the youth novel (Memory of Dragon), or the epic fantasy (The sword of fire, The spirit of the magician).
Deep connoisseur of the classical world and translator of several Biographies of Plutarch, he has set several of his works of fiction in the Greek world: Beloved of the Gods (finalist of the XXV Vertical Smile Prize), the mythological fantasy Lords of Olympus (Minotaur Prize 2006 and Européen Utopiales 2008), the ucronía Alexander the Great and the eagles of Rome (Celsius prize 232 of the Black Week), the historical novels: Salamis, Atlantis, The daughter of the Nile, The Spartan and Odyssey; and the essays The Great Adventure of the Greeks, Victorious Rome, Undefeated Rome and The Roman Conquest of Hispania.