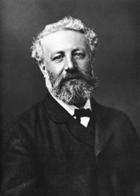 Jules Gabriel Verne, known in Spanish-speaking countries such as Jules Verne (Nantes, Kingdom of France, February 8, 1828-Amiens, Third French Republic, March 24, 1905) was a writer, poet and playwright French famous for his novels adventure and its profound influence on the literary genre of science fiction.
Born into a bourgeois family in the port city of Nantes, Verne studied to continue his father's footsteps as a lawyer, but very young decided to leave that path to devote himself to writing. His collaboration with Pierre-Jules Hetzel editor has resulted in the creation of extraordinary Travel, a popular series of novels scrupulously documented and visionary adventures among which the famous Journey to the Center of the Earth included, Twenty Thousand Leagues Under the Sea and Around the world in eighty days.
Jules Verne is one of the most important writers in France and throughout Europe thanks to the obvious influence of his books in the avant-garde literature and surrealism, 1 and since 1979 is the second most translated author in the world, after Agatha Christie. 2 it is considered, along with HG Wells, the "father of science fiction" 3 he was awarded the Legion of Honor for his contributions to education and science.