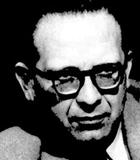 Max Aub (Paris, 1903 - Mexico City, 1972) wrote novels, plays , essays and poetry . Of Jewish descent , German father and French mother and a Spanish citizen child, is one of the most important authors of the twentieth century Spanish literature .
He contributed to publications such as Revista de Occidente . He founded the Socialist newspaper La Verdad and between 1935 and 1936 led the Owl a university theater company . In 1938 he collaborated on the film " Sierra de Teruel" André Malraux .
After the Civil War , he was deported to Algeria after spending some time in a French concentration camp . In October 1942 he settled and nationalized in Mexico, where it enters the film world as a writer , working in the Film Institute and became professor of history at the National University Theatre . It has a vast work and interest is increasing with time.
Member since 1995 of the Royal Academy of the Spanish Language , is considered one of the most important Spanish writers of recent years . He has published novels Beatus Ille (1986 , Icarus Award ) , The Winter in Lisbon (1987, National Book Award and National Critics ) Beltenebros (1989, filmed by Pilar Miró) , The Polish Rider ( 1991, 2002 , Full moon ( 1997) Planeta Prize Carlota Fainberg and again National Literature ) , The Mysteries of Madrid (delivered in installments by El País ) , owner of secrets ( 1994) , the hill of sacrifice (1998) ( 1999) , in the absence of White (2001) and Sephardic (2001 ) . He is also the author of a memoir of his stay in the army , warrior Burning (1995 ) and volumes of short stories The other lives (1988) and Nothing fancy (1993 ) , and several books featuring his many journalistic collaborations .