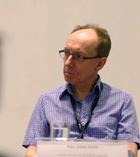 Es especialista en cine y televisión en España y América Latina. Tiene un Doctorado por la Universidad de Cambridge, Reino Unido, donde fue catedrático por veinte años. Actualmente es Catedrático Distinguido en el Graduate Center de la City University of New York. Es autor de diecisiete libros sobre cultura latinoamericana y española, entre ellos Amores Perros, Las leyes del deseo (traducidos al español), Desire Unlimited: The Cinema of Pedro Almodóvar (el primer libro sobre el director en inglés), y unos 70 artículos científicos. Su libro más reciente es Mexican Screen Fiction: Between Cinema and Television.
Es miembro de grupos de investigación sobre comunicación audiovisual en Madrid, España y Guadalajara, México. Fue jurado en el Festival Internacional de Cine de Morelia (2009) y el Festival Internacional de Cine de San Sebastián-Donostia (2013). Es miembro ('Fellow') de la British Academy.
Como periodista es columnista de Film Quarterly, revista publicada por la Universidad de California, y ha sido colaborador asiduo de Sight & Sound, revista mensual del Instituto de Cine Británico.
Ha dado clase sobre cine y televisión en universidades en Gran Bretaña, EE.UU., y España y ha presentado más de cien conferencias y ponencias sobre ese tema por el mundo entero.