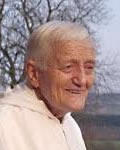 Roger was born the ninth and youngest child of Karl Ulrich Schütz, a Protestant pastor from Bachs in the Zürcher Unterland (Zürich Lowlands) in Switzerland, and his wife, Amélie Henriette Schütz-Marsauche, a French Protestant woman from Burgundy._x000D_
From 1937 to 1940, Roger studied Reformed theology in Strasbourg and Lausanne, where he was a leader in the Swiss Student Christian Movement, part of the World Student Christian Federation._x000D_
In 1940, he rode a bicycle from Geneva to Taizé, a small town near Mâcon, about 390 kilometres (240 miles) southeast of Paris. Taizé was then in unoccupied France, just beyond the line of demarcation to the zone occupied by German troops. For two years Brother Roger hid Jewish refugees before being forced to leave Taizé. In 1944, he returned to Taizé to found the Community, initially a small quasi-monastic community of men living together in poverty and obedience._x000D_
Since the late 1950s, many thousands of young adults from many countries have found their way to Taizé to take part in weekly meetings of prayer and reflection. In addition, Taizé brothers make visits and lead meetings, large and small, in Africa, North and South America, Asia, and in Europe, as part of a "pilgrimage of trust on earth"._x000D_
The spiritual leader always kept a low profile, rarely giving interviews and refusing to permit any "cult" to grow up around himself. Prior to his death, he was due to give up his community functions because of his advanced age and ill-health which had seen him suffer from fatigue and often use a wheelchair._x000D_
Brother Roger was awarded the UNESCO Prize for Peace Education in 1988 and wrote many books on prayer and reflection, asking young people to be confident in God and committed to their local church community and to humanity. He also wrote books about Christian spirituality and prayer, some together with Mother Teresa with whom he shared a cordial friendship.