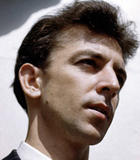 Alvarado, 1924 - New York, 1995 , American writer and screenwriter, considered one of the pioneers and masters of the so-called New Journalism, was part of the postwar Parisian literary movement in the 50s and was a contemporary of the so-called Beat Generation writers in Greenwich Village.
Terry Southern is a well known author in the American counterculture, his talent for dialogue was evident in his screenplays for Dr. Strangelove or: How I Learned to Stop Worrying and Love the Bomb (1964 ) , The Cincinnati Kid (1965 ) or Easy Rider ( 1969) , some of his work for the cinema. His work in the latter film is an essential part of the American independent film movement of the 70s.
To Tom Wolfe , Southern " was the first example I found of a form of journalism in which the reporter begins preparing a custom item (go to Mississippi and find out what happens when 500 pubescent cheerleaders face competition ) and ends writing uan curious form of autobiography. "