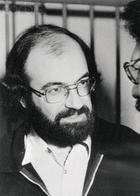 He was born in Tunisia in 1948. Son of a family of Sicilian immigrants
returns to Italy in 1962. For years he works as a metalworker
in Milan. It is in this factory environment that
plunges into political militancy and enters the Red Brigades.
Arrested in 1980 is sentenced to life imprisonment. During his
seclusion he is one of the few ex-combatants who does not agree to collaborate
with Justice, that is, to enter the repentant program.
Since April 2011 he has been on probation with his wife
Nadia Ponti, also sentenced to life imprisonment.

He is the author of several works where both his experiences in
prison are collected, as well as some of the most important contributions to abolitionism
of what the author himself calls the «culture of punishment».
Among his books, it should be noted: Il vecchio che non muore (1991), Il mete
imprigionate. Storia di un amore carcerato (1994), Di sconfitta in sconfitta.
Consideration brigatista brigade there shows a critique of the
rite of the espiatorio capro (2002) and Resistenza e suicidio. Appunti politici
sulla coscienza (2005).