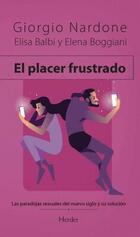 Year of publication:
2021
Binding:
Rustic with flaps
¿Qué queda del sexo después de la revolución sexual? ¿Qué consecuencias tiene el uso de las nuevas tecnologías y las redes sociales en la vida íntima de las personas?
La respuesta es paradójica: por un lado, el final de los tabúes, la afirmación del derecho a la vida sexual, la desinhibición manifiesta y la transgresión institucionalizada han causado un empobrecimiento del deseo y la sexualidad, tanto dentro como fuera de la pareja. Por otro lado, las personas (no solo los jóvenes) parecen sentirse cada vez más atraídas por el cibersexo, tanto si se trata de pornografía online o de los chats de encuentros virtuales, que pueden concretizarse en la realidad, pero que pocas veces hacen nacer relaciones verdaderamente satisfactorias. Estos comportamientos acaban condicionando o amenazando la vida de la pareja y su sexualidad.
Después de haber examinado detalladamente todos l...read more