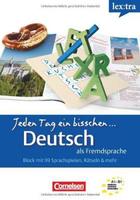 Year of publication:
2014
For youth and adult learning
Ideal for those who want to strengthen or revive an entertaining way their language skills in small daily exercises
-99 Exercises for 99 days.
-Exercises alternating with games, puzzles and geography.
-Pages to check the success of learning.
-Exercises for the road, holiday or business travel.