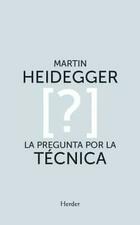 Year of publication:
2021
Binding:
Rustic with flaps
¿En qué consiste la técnica? ¿Es una actividad humana y puramente instrumental? La pregunta por la técnica es el título de la conferencia que Heidegger dictó el 18 de noviembre de 1953 en el auditorio de la Academia Bávara de Bellas Artes, en el marco del ciclo Las artes en la época técnica.
¿Qué tipo de relación establecemos con el mundo y la naturaleza, con los otros y las cosas en una era dominada por la técnica? ¿Cómo podemos contrarrestar su fuerza y su omnipresencia? Se trata de una serie de interrogantes de gran actualidad, que nos invitan a reflexionar sobre la esencia misma de la técnica. Esta articula la realidad en forma de un complejo engranaje que reduce la naturaleza a un simple fondo permanente de reservas.
Todas las cosas, incluidas el ser humano, se convierten así en piezas disponibles, ordenables y reemplazables del engranaje. Este engranaje técnico no ...read more