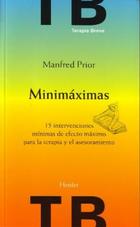 Year of publication:
2011
Whenever I have a headache_x000D_
Whenever we get angry_x000D_
I'm always depressed_x000D_
_x000D_
Such statements by the word "always" is extremely useful to convey an impression but have the disadvantage of making the problem seem more serious. The headaches that you have "always" feel like more serious than headaches that occur at intervals. "Always" it makes the problem more serious than it really is._x000D_
_x000D_
Prior Manfred presented in this book fifteen interventions to achieve maximum effect with minimum effort. Counselors and psychotherapists will find that one little word can have great therapeutic implications.