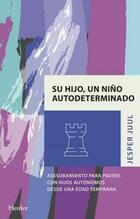 Year of publication:
2021
Binding:
Rustic with flaps
En su último libro Su hijo autodeterminado, Jesper Juul reúne las respuestas de más de 30 preguntas específicas formuladas por padres preocupados.
Hay niños que, desde su nacimiento, insisten en su derecho a la autodeterminación. Son niños con aspiraciones de dependencia que van mucho más allá de lo habitual, y que reclaman el derecho a tomar sus propias decisiones. Son los denominados niños autónomos o autodeterminados.
Los padres de estos niños dudan a menudo del valor de sus cuidados. Es habitual que se sientan abrumados por la férrea voluntad de sus hijos para decidir sus propios intereses. En definitiva, satisfacer las necesidades especiales de estos niños supone todo un desafío para sus padres.
En este libro, el renombrado terapeuta familiar Jesper Juul aboga por la cooperación abierta y auténtica en lugar de las luchas de poder, la manipulación o incluso la...read more