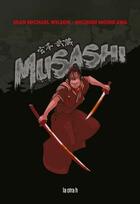 Year of publication:
2021
Binding:
Rustic with flaps
Miyamoto Musashi, famoso samurái, ha pasado a la historia como una figura emblemática.
Este samurái, el más famoso del viejo Japón, representa aspectos clave del espíritu bushido del país del sol naciente. Participó en algunas batallas fundamentales de su época que sirvieron para instaurar el dominio Tokugawa y anunciaron el prolongado periodo Edo.
Desarrolló, además, magníficas habilidades para la poesía, la caligrafía, la pintura, la ceremonia del té, el diseño de jardines y la meditación zen. Fue autor de uno de los textos clásicos de las artes marciales, Go Rin No Sho, o Tratado de las cinco ruedas. Todo ello hace de Musashi una figura casi mitológica, un poeta-soldado que todavía hoy es fuente de inspiración.