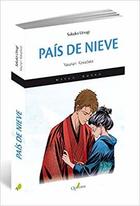 Year of publication:
2016
The unforgettable love story between a rich middle-aged man trying to escape the routine of his marriage and a young apprentice geisha. A story of unrequited love, of lovelessness and loneliness set in Niigata, the Country of Snow, the coldest region of Japan.
Adaptation of the masterpiece of Yasunari Kawabata, the first Japanese to win the Nobel Prize for Literature, in a beautifully illustrated sleeve that tells the story of a love triangle in which the beauty of the landscape and the snow that envelops everything take center stage .