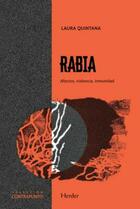 Year of publication:
2021
Binding:
Rustic with flaps
Hay formas de rabia que intensifican la desigualdad y otras que la combaten. Y en esta duplicidad están en juego diferentes comprensiones de la vida, la identidad y su relación con lo extraño.
En distintas actitudes cotidianas y en varias de las decisiones políticas son visibles formas de miedo, odio y resentimiento. En las redes sociales y en las decisiones electorales, en los espacios cotidianos rutinarios y como respuesta a crisis inesperadas, la gente expresa su insatisfacción por aquello que percibe como rechazable y amenazante: personas migrantes estigmatizadas, formas de vida asumidas como degeneradas, figuras públicas satanizadas. A su vez, el descontento ante la violencia y la desigualdad da vida a formas de enardecimiento que confrontan estas condiciones en apuestas políticas disidentes.
Rabia: Afectos, violencia, inmunidad analiza estos afectos como experienci...read more