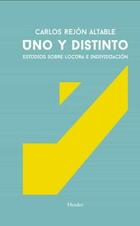 Year of publication:
2022
Binding:
Rustic with flaps
Uno y Distinto cuenta la historia de este sentirse propio y ajeno a la vez, desde sus figuras primeras, Daimon y Genius a través de su progresiva pérdida de sustancia y desaparición de la experiencia. Y busca también maneras de volver fecunda esa tensión para los problemas del día a día.
La enfermedad del alma, la enfermedad mental, la locura, ha viajado siempre de la mano de un saber oscuro acerca de la multiplicidad de afectos, de ideas y de costumbres que nos habitan sin que parezcan nuestros. Este saber nos empuja a decir, hacer y sentir cosas extrañas, a veces ajenas por completo a nuestra particular mezcla de anhelos, opiniones, juicios e identidades. La conciencia de ser uno y distinto, distinto de los otros, pero también distinto de mí mismo por dentro y aun así uno, es parte esencial del trato con las enfermedades del alma en Occidente.
Ahora que la época de las...read more