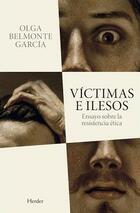 Year of publication:
2022
Binding:
Rustic with flaps
Un libro imprescindible para mirar de frente a un sufrimiento que nos devuelve la imagen de una sociedad que no ha conseguido evitarlo, y del cual podemos aprender sin justificarlo.
¿Qué entendemos por víctima? ¿Quién la ha conducido a esa situación? ¿Qué lleva a una persona a someter a otra? ¿De qué depende que se conmuevan quienes no son víctimas?
Estas y otras cuestiones son las que plantea Olga Belmonte en este ensayo, en el cual invita a los lectores a actuar desde la reflexión inteligente y serena. La autora pone en el centro la voz de las propias víctimas, muchas veces silenciadas, pero también la ausencia de palabras de quienes no pudieron narrar su experiencia.