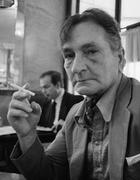 Albert Cossery born in Cairo in 1913 and died in Paris in 2008. After numerous journeys by the United States and Europe ends settling in 1945 in a downtown hotel in Paris, where he lived until his death. On the banks of the Seine he cultivated his famous and healthy laziness besides his friendship with Lawrence Durrell, Albert Camus, Jean Genet, Juliette Greco, Alberto Giacometti and Boris Vian, to name a few.
-very Read his work in France was translated into English by the admiration he felt for her Henry Miller; over the years it maintained its freshness and continues to win enthusiastic readers worldwide.
In 1990, after the reissue of Beggars and proud -of which there is a film adaptation and another to cómic-, receives the "Prix Grang Francophonie" by the body of work (all of it one book in his own words): eight novels, a collection of stories and a stage adaptation of The idlers of the fertile valley, that if the authorities do not prevent and weather permitting will appear in Pumpkin seeds.