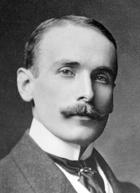 Count Harry Kessler was born on May 23, 1868 in Paris. He was patron, art collector, writer and diplomat pacifist and emblematic figure of the fin de siècle.
Except for a few years who tried unsuccessfully pursue the career of pacifist politician, Count Kessler edition of the classics in Weimar (Cranach- Presse) and the publication of his own work was dedicated, as Notes on Mexico and A biography about Walter Rathenau.
With the start of the Nazi dictatorship he retired to Mallorca to review his extensive diaries, which would become the most important testimonies of European culture between the wars. His heritage and art collections were confiscated by the Nazis. Therefore, his death, he practically ran out of economic resources and died in a hospital in Lyon, France.
After World War II, Kessler's legacy was virtually forgotten until almost the beginning of the XXI century, when its complete journals were published in German and eight volumes.