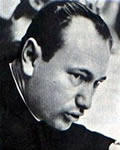 Paul-Eugène Charbonneau, CSC (1925-1987) theologian was um, a Catholic priest and educator Canadian._x000D_
Initiated and completed his studies em instituições city of Montreal, Canada. At the University of Montreal, obteve the degree Bachelor of Arts and m, m 1947. M November 23, 1950, it ordered Father Pela Congregation of Holy Cross, and 1956 m, the obteve doctorate degree theology em Pela same University._x000D_
Search Search_x000D_
During the 1950's, também em Montreal, was the DIRECTOR preparação service of the wedding, Professor of Theology at the University of Montreal, in the Superior Institute of Religious Science and the seminary of the Congregation of Holy Cross. Também was Professor of Philosophy at St. Laurent College and Holy Cross Congregation._x000D_
Transferred to Rome, 1956 m, the Curia trabalhou Generalizada Santa Cruz._x000D_
Search Search_x000D_
Designed to teach philosophy at Holy Cross College, em São Paulo, the priest came to Brazil Charbonneau m 1959. From 1965 until his sudden death m 1987, was runner-DIRECTOR of the College, demarcando sustentam that the principles and philosophy of education ação College._x000D_
Emphasized the relação between DIRECT and conhecimento ação Uma and defended VISION total human being, connecting body and soul, physical and spiritual life. Estimadíssimo alunos hairs, procurava forward lhes the critical attitude, respect for diversity of thought, love life and coisas spirit. Scholar, arguto, controversial author's extensive work, largely devoted to the qual educação and questões relating to sexuality, drugs, teens, educação, God, marriage, politics and science._x000D_
Search Search_x000D_
About Youth and inspiring power, dizia:_x000D_
We are uneasy. Because young people in the Caminho empurram in existence and in forçam every day in the CEM Fazer unsolvable questions, because we exigem answers, for all manhãs, in the light of day that desponta, erguem OUR front of the impenetrable mystery homem; perguntam because we become like homem and why become crystal ... They take away the rest of mind and let me behold the stop._x000D_
He was Professor of Religious Science at PUC-SP, in theology at the Institute of Philosophy and Theology of São Paulo between 1965 and 1966; of Anthropology, Paulista School of Medicine (1967), and Morals, Paulista School of Nursing (1969 .) Um was founding member of the Association of Business leaders Cristãos (ADCE) in qual trabalhou assessor as doctrinaire.