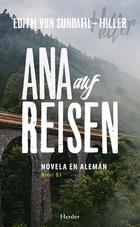 Year of publication:
2019
Binding:
Rustic with flaps
Ana auf Reisen es la esperada conclusión de la trilogía de Ana, una joven española que vive y trabaja en Berlín. El lenguaje y la gramática se adaptan al nivel B1 de los cursos de alemán.
La novela, adaptada para los estudiantes del nivel B1, trata de los viajes por Alemania de Ana y de las amistades y relaciones que van surgiendo por el camino, cada vez más amplias y complejas. El lector conocerá, a través de los ojos de la protagonista, una aldea de Turingia, el sur de Alemania con Stuttgart y la Selva Negra en Friburgo y, finalmente, el norte del país con la ciudad de Hamburgo.
Gran parte de la novela se narra en forma de chats y mensajes de audio para favorecer el aprendizaje de frases auténticas y coloquiales, con la intención de diversificar el vocabulario del B1 estándar. Aunque los libros de Ana se pueden leer por separado, la trilogía de Ana permite al lector di...read more