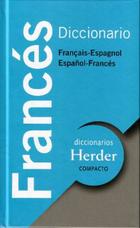 Year of publication:
2010
Encuadernacion:
Tapa Dura
More than 85,000 entries in 936 pages. _x000D_
Lexicon today, from the cult to the colloquial and vulgar, slang and technical terms voices. _x000D_
Explanatory boxes with untranslatable terms associated with each culture and clarify concepts and translations of difficulty. _x000D_
French regional language use (France, Switzerland, Belgium and Canada) and Spanish (Spain and Latin America). _x000D_
Contains the largest number of Spanish words and phrases in Latin America. _x000D_
Uses grammatical and contextual use of words. _x000D_
Includes phonetic transcription of French and summaries of the grammars of both languages.