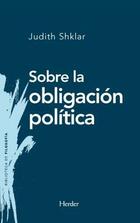 Year of publication:
2021
Binding:
Rustic with flaps
Un libro indispensable para profundizar en una de las más importantes contribuciones a la filosofía política del siglo XX.
Judith Shklar es una de esas pensadoras liberales que, en tiempos tan convulsos como los actuales, están adquiriendo una gran relevancia. Su principal preocupación como teórica política es la defensa de la libertad cívica y la descripción de los modos y circunstancias en los que puede ser practicada y defendida.
En Sobre la obligación política, se pone de manifiesto el lugar central que Judith Shklar concede a la libertad de pensamiento. Firme defensora del concepto de libertad positiva, la autora defiende que un liberal político debe comprometerse profundamente con la sociedad que habita. Estos textos son, por otra parte, demostraciones prácticas de la filosofía de enseñanza de la autora y de su meticulosa preparación de la docencia.
Las vein...read more