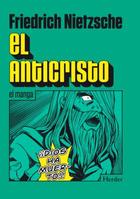 Year of publication:
2014
Madness? Final result of the sinking of Nietzsche? Dazzling? Flight of the human spirit? The Antichrist is a devastating critique of the foundations of Western culture. According to the author, Christianity is the cause of social ills, a morality of slaves fruit of resentment of the weak against the strong; moral, developed by St. Paul after the death of Jesus, which deifies anything that denies and falsifies reality and build a "world of pure fiction."
Faced with declining values​​, Nietzsche claimed the virtue of the free spirit, for life is "instinct for growth, accumulation of forces, for power." For the author, the date of completion of the work was quite an event, the last day of Christianity and the first of a new epoch, the day of the "law against Christianity."